Not surprisingly, only a few books have been written about the sort of hip Christmas music with which I concern myself. Most authors cater to a readership more concerned with preserving traditions than shattering them - nothing more radical than, say, Bing Crosby. So, my "Hip Christmas" library consists of just six volumes. Four of them are reference books, two of which are fairly worthless at this late date, and another is a heady cultural history. So that leaves, um, one - and it's a skinny book. Regardless, all have have proved valuable in my endless quest for the hippest holiday tunes. I think you'll find them useful, too. What have I missed? Drop me a line...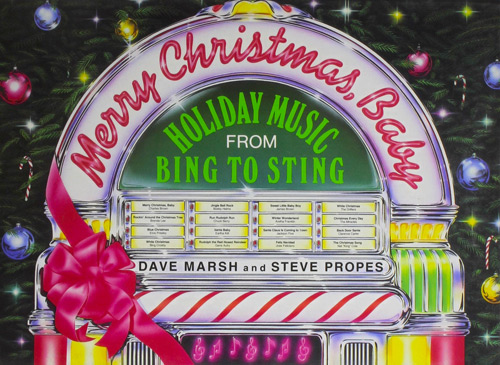 Merry Christmas, Baby: Holiday Music From Bing To Sting
written by Dave Marsh & Steve Propes (1993)
Dave Marsh is, without argument, one of the most important and prolific writers in the annals of rock journalism (read more). Among his achievements are the definitive biographies of Bruce Springsteen and Heart of Rock & Soul: The 1001 Greatest Singles Ever Made, which Marsh himself describes as "the world's lengthiest act of rock criticism." But, he's also been involved in some fairly slight literary efforts. Possessed of a healthy grasp of the absurd, Marsh has lent his name to books that make you wonder exactly who wanted to read them - let alone write them. His tome Louie Louie - which devotes its 272 pages to a single song lasting less than three minutes - is one such a book, and Merry Christmas Baby: Holiday Music From Bing To Sting is another.
Compared to most of Marsh's books, Merry Christmas Baby isn't particularly well-written, nor is it as exhaustively researched or copiously annotated. Marsh and his partner Steve Propes (author of several books about record collecting) race rapidly through nearly 100 years of recorded history, from the Hayden Quartet's "Jingle Bells" (1902) to A Very Special Christmas, an all-star effort from 1992 (which Propes and Marsh like way too much, incidentally). Consequently, the book reads more like a fan's diary than a critical history. But, I love Christmas music (the hip kind, at least), and this is the best book ever written about that music as it developed during the electronic age.
The most useful features of Merry Christmas Baby are the lists, including "Christmas Every Day," which concludes the book with the 365 greatest Christmas singles. Despite their inclusion of Kenny Rogers (Kenny Rogers?!?), Marsh and Propes know their stuff, and you could do a lot worse than Merry Christmas Baby when investigating this irresistible, inexhaustible genre. (Merry Christmas Baby quickly fell out-of-print, but copies aren't that scarce - try Amazon.) [top of page]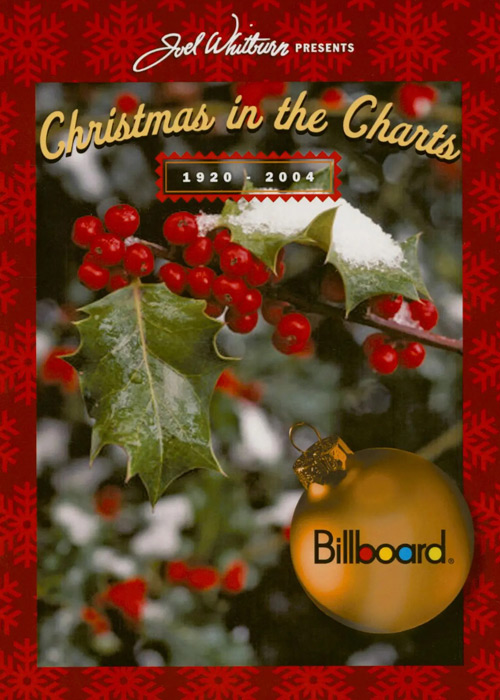 Christmas On The Charts 1920-2004
compiled by Joel Whitburn (2004)
This book is perhaps the slimmest volume of Joel Whitburn's mammoth, ongoing series of books chronicling the history of music in America as seen through the eyes of Billboard magazine, long the most prominent music industry trade journal. To writers, collectors, and other music-obsessed types, these books are an invaluable tool. But, like the industry and public as a whole, Billboard has conducted an on-again, off-again relationship with Christmas music. Their treatment of these records has varied considerably over the years, charting them a variety of methods over the decades - sometimes all but ignoring them. The neat trick that Whitburn and his staff at Record Research pull off is integrating all that disparate data into a comprehensible whole.
Christmas On The Charts is divided into just two sections - singles and albums - which are then cross-indexed by artists, titles, and tracks. For guys like me, it's a fascinating read - thrilling in the little details I inferred from the statistics, titillating in the rare treasures I discovered amidst the hits (including those found in the full-color "Christmas Photo Album"). For everyone else, though, this will be a reference book and little else.
More than anything, studying Christmas On The Charts has reinforced my impression that, despite a relative explosion of Christmas records in recent years, the golden age of Christmas music is far behind us. The big hits these days are those by Josh Groban, Trans-Siberian Orchestra, Mannheim Steamroller - hardly paragons of hip. The coolest, hippest holiday records from the last several decades are the ones not found in Christmas On The Charts - which is a failing of the marketplace, not the authors. [top of page]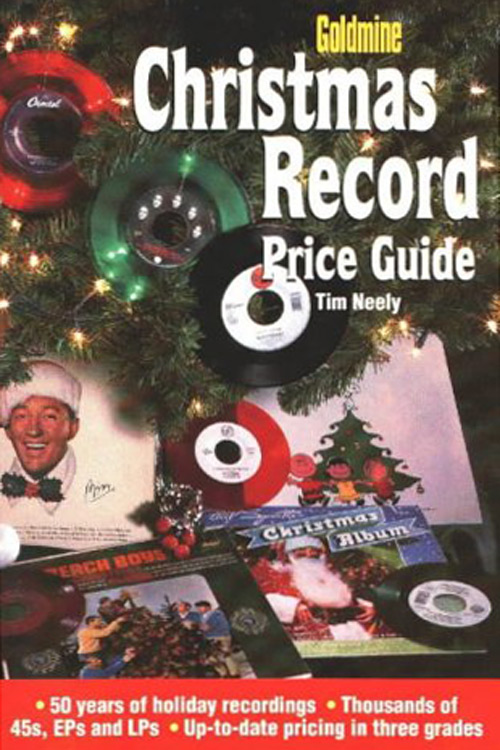 Goldmine Christmas Record Price Guide
compiled by Tim Neely (1997)
I have two points to make about the Goldmine Christmas Record Price Guide. My first point is self-apparent: this thing is a goldmine, the veritable mother lode. The book takes its name from Goldmine magazine, a storied record collectors periodical, but the metaphor holds well. I discovered the bulk of my bulky Christmas collection within these 400-plus pages, and I'm still finding little gems tucked away in the book's rather fine print.
Researcher and compiler Tim Neely organized his discography by artist, and he included label, number, and date, plus b-sides for the 7-inch singles and - here's the cool part - tracks contributed to various artist compilations. Alas, however, he provides no track listings for the artists' own LP's, and there's no list of songs cross-referenced to artist. Nevertheless, Neely's Christmas Record Price Guide is the most comprehensive reference book about holiday music ever published.
My second point, though, is that when Neely says "record," he means it in the old-school, black-vinyl meaning of the word - 45's, EP's, and LP's, not compact discs. That means that the treasure trove documented by the Goldmine Christmas Record Price Guide starts to peter out around 1990 when compact discs began to dominate the marketplace. Ergo, the book is less useful to folks interested in collecting CD's, and it has no relevance whatsoever to youngsters bent on downloading the latest rage from iTunes. (On the other end of the timeline, note that the Neely picks up his story during the fertile post-WWII period with the advent of the 45- and 33-rpm record, thus ignoring several decades of important music and thousands of precious 78's.)
But, even though most of my collection consists of compact discs - I try to resist my vinyl fetish - the Christmas Record Price Guide has proved invaluable in my role as amateur historian. That is, the book has helped me fill in the gaps from less-than-scrupulous liner notes, even if it has not generally served as a lengthy (and costly) shopping list for lost vinyl. That said, I've found that even an authority as august as Goldmine misses stuff, particularly obscure doo wop from the 50's and English punk rock from the 70's. Perfect? No. But, it's the only game in town - and it's a pretty good one. (The Christmas Record Price Guide has fallen out-of-print, and copies are scarce - try Amazon.) [top of page]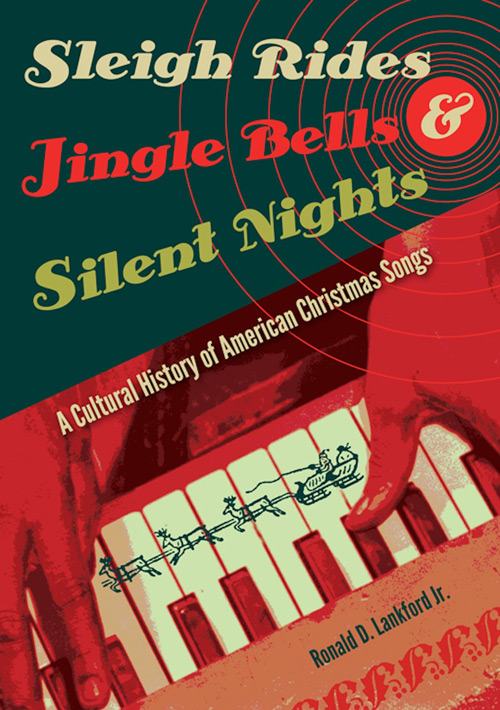 Sleigh Rides, Jingle Bells, and Silent Nights: A Cultural History of American Christmas Songs
by Ronald D. Lankford (2013)
Most of the books on this page address the who, what, when, and where of modern Christmas music. Ronald Lankford's book Sleigh Rides, Jingle Bells, and Silent Nights asks (and answers) the question of why America wrote and embraced the holiday songs we did. What did they say about us, how did they reflect our culture, and, ultimately, how did they subsequently shape the culture that produced them? The answer is not a simple as you might think.
Roughly stated, Lankford argues that songs like "White Christmas" (1942), "Have Yourself A Merry Little Christmas" (1944), and "The Christmas Song" (1946) were a reaction to a world that was increasingly complex, urban, and frightening. The Great Depression had just ended and World War II was upon us, and we longed for a simpler, safer Christmas in a bucolic, rural setting. It was, bluntly put, a past that never existed for most Americans - but that didn't stop us from wishing we could bring it back.
Lankford also explores how Christmas songs like "Santa Claus Is Coming To Town" (1932), "Here Comes Santa Claus" (1947), and "Rudolph The Red-Nosed Reindeer" (1949) helped focus the holiday on children, gift-giving, and, subsequently, commerce. No longer was Santa Claus was a bringer of justice who punishes the naughty while rewarding the nice. Rather, he became a kindly, uncomplicated, grandfather figure. Meanwhile, songs like "Winter Wonderland" (1934), "Let It Snow" (1945), and "Baby It's Cold Outside" (1949) focused on romance, sex, and other forms of merry-making. None of these songs, moreover, focused on the birth of Jesus, and some of them don't mention Christmas at all! Like the country itself, Christmas in America during the last half of the 20th Century became a very different thing - and we exported this new tradition to the rest of the world via the very songs that helped create it.
Ronald Lankford's style and methodology are somewhat academic, so I wouldn't recommend Sleigh Rides, Jingle Bells, and Silent Nights to everybody. It's also not, formally speaking, a book of history. It's packed with historical details, true, but Lankford uses them to analyze the evolution of culture - not tell a story. For a more straightforward set of facts, I'd recommend the extensive series of books by Ace Collins or, even better, Ronald Clancy's book-and-CD series (see more books below). But, if, like me, you wonder how the garish, secular spectacle of the American Christmas evolved from a simple, austere holy day, Lankford's book is for you.
MusicMaster: The 45 rpm Christmas Singles Directory
edited by Paul C. Mawhinney, 1992
When it was published - long before Google, All Music Guide, or Wikipedia - the MusicMaster directory would have been an invaluable resource, one of the best ever created for geeks like me. Now, not so much. But, it's nice to have it on the shelf - even if that's where it stays most of the time. The book lists about 5000 singles, first by title and then by artist, and it includes those ever-elusive releases dates - though I've often found that data missing on titles for which I didn't already have reliable information. And while one could assume that Mawhinney's data would have been subsumed into the Goldmine book (above) - not to mention Google, All Music Guide, or Wikipedia - you know what happens when you assume....
Anyway, MusicMaster covers "44 years of recorded music 1948-1992," and in its day it was an important reference ("A required reference for any serious music collector," says Dick Clark). The editor, Paul Mawhinney, also ran Record-Rama, a storied record retailer in Pittsburg. He claimed to own the world's biggest record collection - and also claimed responsibility for David Bowie's success. This particular book is billed as "Volume One," though I believe that is in reference to its place in the larger, now-defunct MusicMaster series. Whatever the case, I am not aware of any other volumes or editions of the Christmas directory that were subsequently published, and Mawhinney stopped publishing MusicMaster altogether around the turn of the century.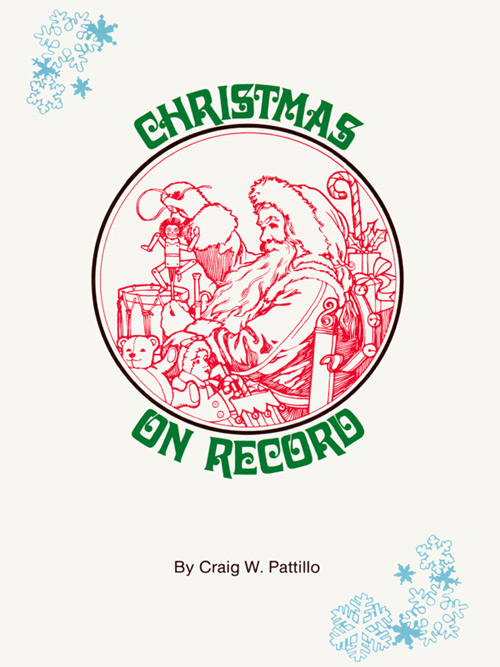 Christmas on Record: Best Selling Xmas Singles & Albums of the Past 40 Years
compiled by Craig W. Pattillo, 1983
It took me years to track down a copy of this book - even though it was published about the time I first developed a fascination with out-of-the-ordinary Christmas music. When I finally found one, I had to smile. The author was clearly a kindred spirit - an obsessive/compulsive guy who loves Christmas records and relishes an ambitious do-it-yourself project. If he had started 20 years later - like I did - he would have launched a website. Instead, he organized and typed the whole thing (yes, typed) and then published it himself under the banner of Braemar Books.
Mostly, Pattillo compiles data from Billboard - just like Joel Whitburn did 21 years later (above) - including singles, EP's, and albums, but he also includes some listings for "notable" records that did not make the charts. Unfortunately, he organized the book in a way that only a fellow maniac could appreciate, and since there's no master index, you have to read the thing like novel (which I did) to learn anything (ditto). So, even more than the MusicMaster volume listed above, Christmas on Record is no longer valuable as a reference. But, just like that other book, it's comforting to see it gathering dust on my bookshelf - if only as a constant reminder that I am not alone in my quixotic Christmas quest. [top of page]

More Books: Not-So-Hip Christmas Music
Christmas Jukebox

Now, you can hear the Christmas music I write about! My Christmas Jukebox is bulging with over 450 tracks, and I'll be adding more rockin' Yule tunes throughout the year. [listen now]
Sponsored Links